Tired of being underpaid?
Learn to negotiate like a boss and actually get paid what you deserve!
We are currently full. Join the waitlist to be the first to know when our doors open again!
Did you know that by not negotiating your next job offer, you could be missing out on over $1,000,000 throughout your lifetime?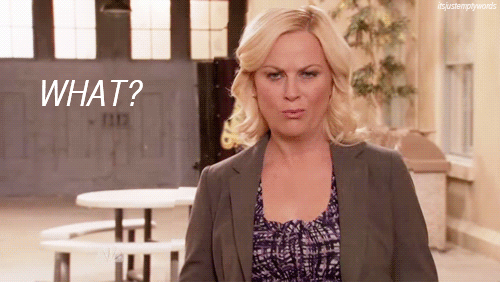 That's what I'm saying! And if you're like me, I'm guessing that you'd rather have that money in your pocket than left on the table, am I right?
Introducing Be Brave Get Paid
A step-by-step salary negotiation bootcamp for women, designed to help you gain the skills to confidently ask for more, so you can finally stop settling for less.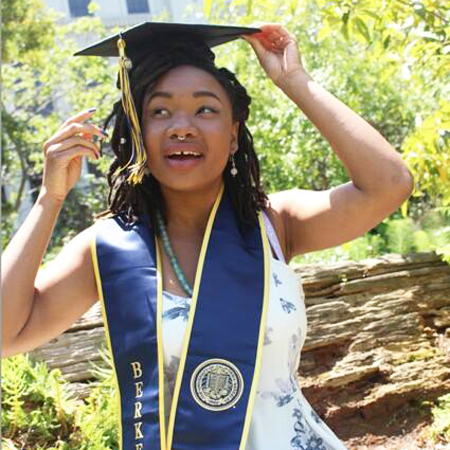 "Thank you Kat! Thanks to everything I learned, I not only negotiated a higher salary, I was able to DOUBLE their offer!" - Amber
Why learn to negotiate your salary?
Researchers estimate that the working woman could be leaving as much as $1,000,000+ on the table over her lifetime by not negotiating her pay.
What would you do with a million dollars more over your lifetime?
Would you take that vacation you've always wanted?

Would you finally be able to save for a down payment on a home?

Would you start the dream business you can't stop thinking of?

Would you begin financially supporting your parents?

Would you eat avocado toast all day long?

The world is your oyster woman, what would you do?!
What's Included in the Course?

From uncovering the money beliefs that may be holding you back, to researching like a boss ninja, to word-for-word scripts of what to say, Be Brave Get Paid covers the entire salary negotiation process to make sure you are able to successfully negotiate your next job offer.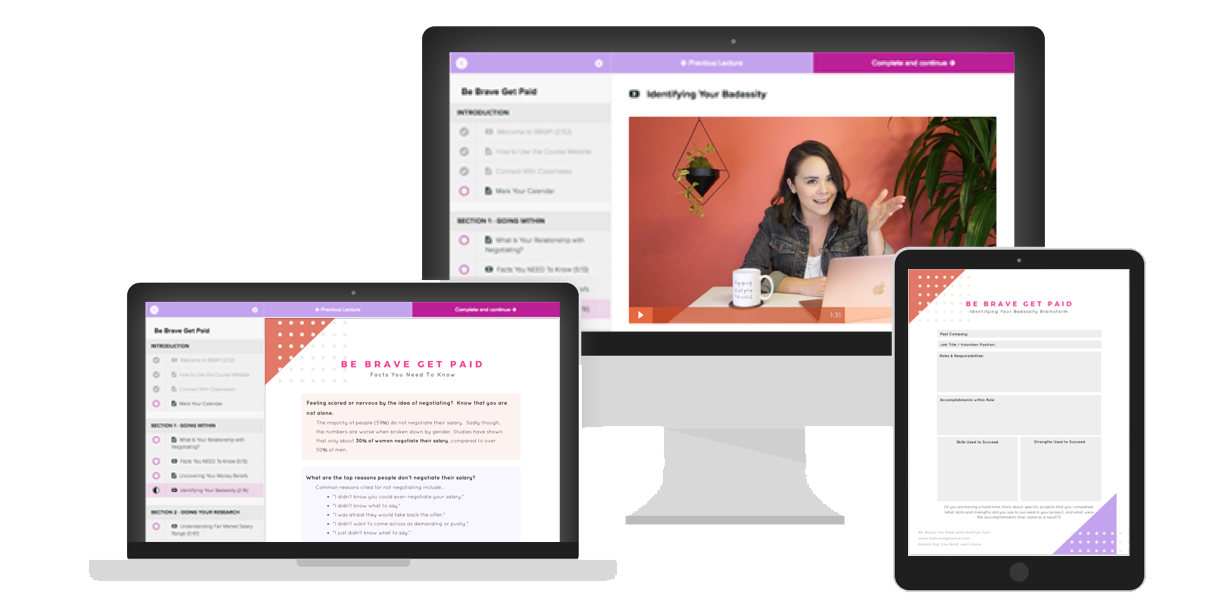 By Enrolling You'll Receive...

30+ interactive training videos

Word-for-word negotiation scripts

Ready-to-use email templates

Cheatsheet & checklist downloads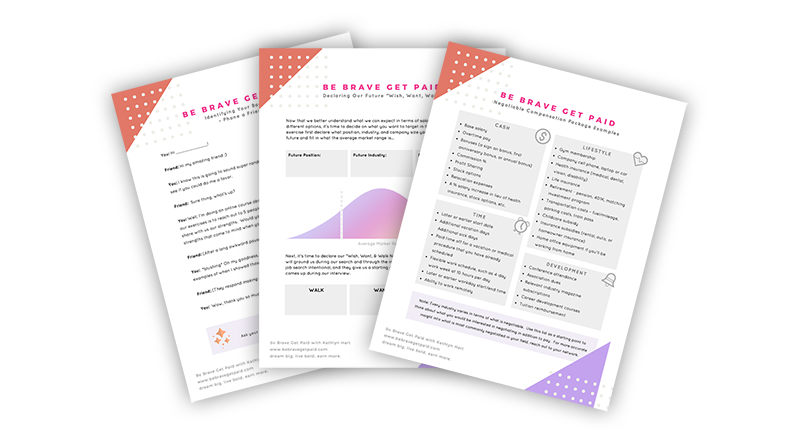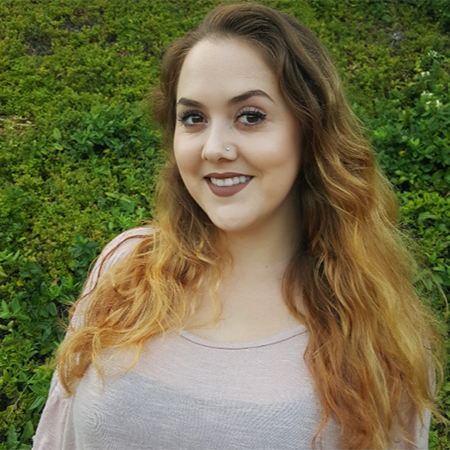 "I can't thank you enough Kat! I not only felt more confident making the ask, but I was able to negotiate a salary that was over 30% higher than their original offer!" - Emma
We are currently full. Join the waitlist to be the first to know when our doors open again!
What You'll Learn
Be Brave Get Paid is broken down into the following sections...
Section 1 - Going Within
How much we think we deserve is often unconsciously rooted in our beliefs about money. We begin the course by unearthing the beliefs that may be holding you back from asking for more. After we dive deep into identifying what strengths you have to leverage in your upcoming negotiation.
What this means for you
👉🏼 Beat self-sabotaging thoughts and connect with your inner boss


Section 2 - Research Like a Boss
We've heard we need to research how much we should be paid, but how are you actually supposed to come up with that number? In this section we dive into advanced strategies both online and offline to help you identify your unique salary range so that you can confidently state how much you want to earn in your upcoming negotiation.
What this means for you
👉🏼 Get an exact number to state that won't undercut your value


Section 3 - Body Language Hacks
Nonverbal communication can either make or break your negotiation. In this section we reprogram your physiology and mindset so that when it comes time to making the big ask you both look and feel confident.
What this means for you
👉🏼 No more freak-outs or chicken-outs with these exercises


Section 4 - Acing the Interview
A critical piece to a successful negotiation is how you talk about yourself, the company and your ideal salary during the job interview. In this section, you'll get to learn what to say (and what NOT to say!) during the interview so that you can set yourself up for a successful negotiation.
What this means for you
👉🏼 Better interviews that set you up for higher pay


Section 5 - Nailing the Negotiation
This section is all about the art of the ask! We explore how to act and react in different scenarios, how to overcome common objections, and much more. This section is the longest and most in depth, filled with strategies and scripts, to ensure that you are prepared to negotiate with confidence and walk away with the salary you deserve!
What this means for you
👉🏼 No more deer in headlights when it comes to making the big ask. Instead you'll know exactly what to do and say to get the pay increase you deserve!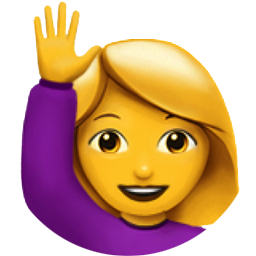 "This course has helped me uncover my money beliefs, understand the importance of research, helped me to own my worth, and provided me with a step-by-step guide to salary negotiation I didn't even know I needed! Thanks to everything I learned I was able negotiate an offer that as $35,000 more than what I was making before!" - Theresa
This course is perfect for you if...
You're Tired of Feeling Underpaid
You work your butt off, giving 110% to everything you do and you are ready to be paid what you deserve.


You're Nervous About Negotiating
You've heard that you should negotiate, but the idea of doing it scares the crap out of you. You are ready for someone to break it down in an easy and approachable way.


You're Not Sure If You're Doing It Correctly
You've tried negotiating in the past, but aren't confident that you're doing it correctly. You are ready to finally learn art and skill of negotiating for more.


Straight Up, You're Busy
You are way too busy to waste your time reading half-baked articles online. You want a system that works and for someone to just tell you EXACTLY what to do and say every step of the way.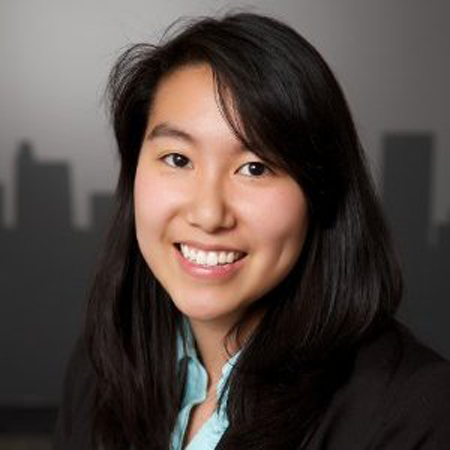 "I was SO nervous about asking for more. Kat's teachings helped me gain a new perspective on my strengths and they helped me ACTUALLY land the salary bump!" - Sophia
Don't miss our next launch! Get on the waitlist to be the first to know when doors open again!
Meet Your Instructor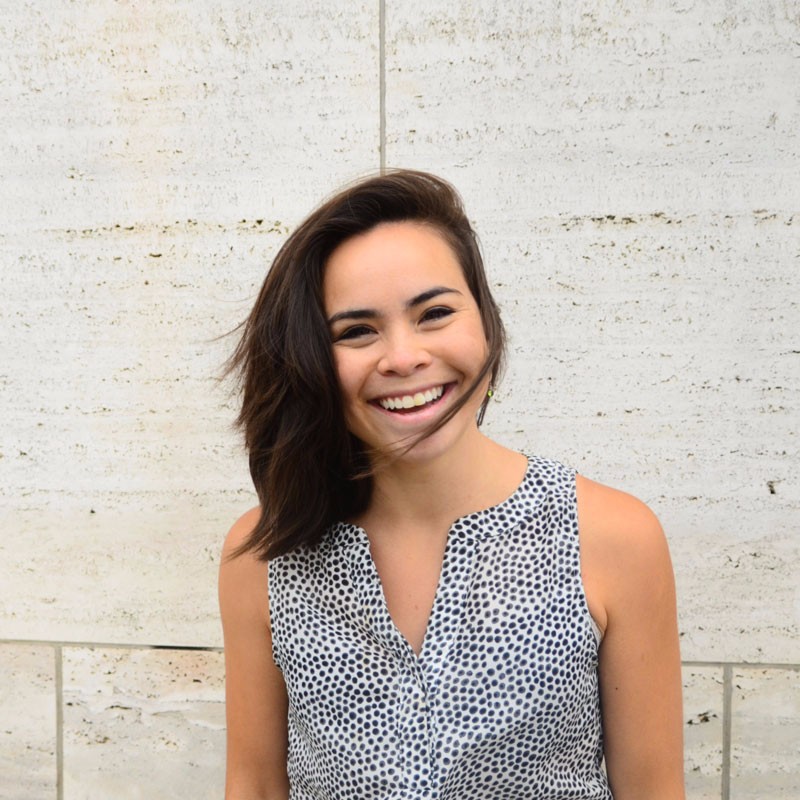 Hi there! My name is Kathlyn Hart, and I'm a financial empowerment coach on a mission to help you earn more.

Why? Well, for years I spent my days being underpaid slaving away at a job, hardly able to make rent, let alone being able to make my dreams of quitting my job to travel the world a reality.

It wasn't until I understood, mastered, and mustered the courage to negotiate my salary that I was able to double my income, save over $16,000, and swap out my commute for the open road.

This, my friend, is what I want for you. Whether you just want to be fairly paid, or your dream is to travel the world, start a business, pay off your student loans, or even just buy all the god-damn lattes you want, I want to help you earn what you deserve so that you can have the freedom to create the life you want to live!


The Be Brave Get Paid Guarantee

If you aren't able to increase your income by at least $1,000 within one year of fully completing and applying the strategies and exercises in this course, we will happily give you a full refund.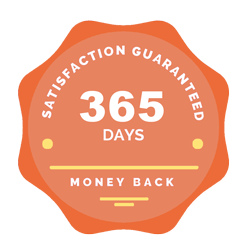 Don't Wait Another Day to Start Earning What You Deserve. Join Women Like...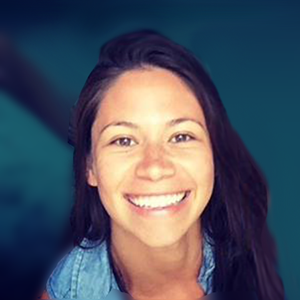 Kalina
Negotiated a 20% increase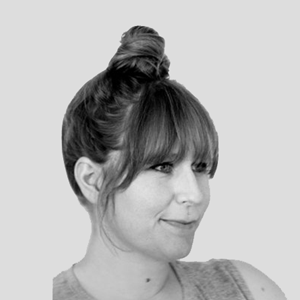 Erin
Doubled her salary!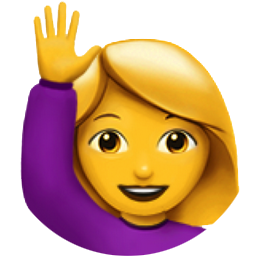 Mia
$30,000 increase
Frequently Asked Questions
How long do I have access to the course?
By enrolling in Be Brave Get Paid, you'll have lifetime access, so you can come back to the course again and again! I have created this to be your go-to salary negotiation resource now and forever, for all future job opportunities!
Can I access future updates?
YES absolutely! Your lifetime access includes all future updates to the course.
How is the course delivered?
Upon enrolling you will immediately be sent a login link so that you may begin accessing all of the course content. If you sign up for the package which includes a 1-hour VIP Coaching Session, a member of our team will be in touch to help you set up your call with Kathlyn!
How long does the course take?
I know hard-working individuals like yourself are busy and so I wanted to create an online course so that you can learn how to earn more on your own schedule. Because the course is self-paced, you have the option to complete it as quickly or as slowly as you would like! Many students will sit through the entire training once and then come back again to access individual videos based on where they are in the negotiation process.
Is this course right for me even if I'm not currently applying to new jobs?
YES! The sooner you start learning and practicing these techniques, the more comfortable and confident you'll be when it comes time to actually negotiate your salary. In addition, although this course is designed for job seekers who want to learn how they can negotiate their next job offer, many students have used the course to negotiate raises (our highest raise to date is a 40% increase).
What if this course doesn't work for me?
Your satisfaction (and future salary bump) is important to me! I deeply believe that if you put in the work and apply what I teach you WILL get a salary bump. I so deeply believe this that if you're not able to earn at least $1,000 more within 1 year of FULLY completing and applying the strategies and exercises in this course, I will happily give you a full refund. Please note that you will be required to fill out an Assignment Form showing that you completed the course content and implemented the strategies with commitment. This course won't work unless you do :)
This course would be a big investment for me. Is it really worth the price?
I'll let my student Sabrina answer that for you: "I'm not one to spend money on an online course (honestly, I usually just Google everything). The problem was when I began interviewing for jobs I realized pretty quickly that the free articles just weren't cutting it when it came to making me feel prepared. With a huge interview around the corner I decided to buy the course and give it a shot. Two short weeks, later after implementing the steps Kat teaches, I was signing an offer for $35,000 more than my previous job! If you are on the edge, just do it. Don't waste any more time feeling overwhelmed sifting through millions of articles. Buy this course, follow the steps, and see how quickly you will begin to earn more!"
Do you have payment options?
Yes! To make this course an easy yes, I've set up a 6-month payment plan. To pay monthly, switch the toggle from "One-Time Payment" to "Payment Plans."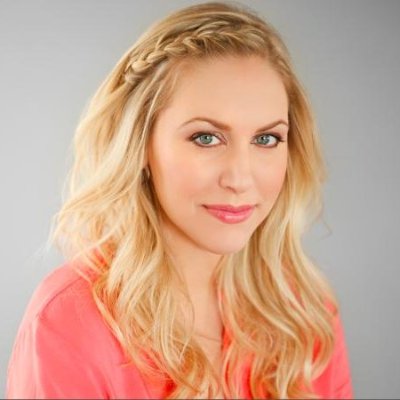 "Thank you Kat! I not only landed a 10% increase and a 10% bonus, more importantly, you helped me with gain the confidence to go after the salary I knew I deserved!" - Kate
Get on the list to be the first to know when doors open again!